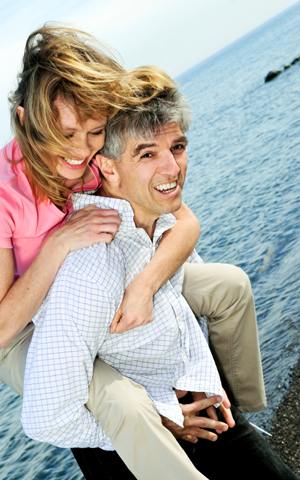 Missing teeth can affect everything about your smile. Your oral health may plummet, while your risk of jawbone deterioration and dysfunction increase. It might become difficult to chew and speak, and of course, you'll find yourself hiding your smile.
When you're missing teeth, you can really appreciate a full and complete smile. Dr. Barrows provides implant-supported denture options for ultimate security and confidence.
How They Work
Dental implants serve the same purpose as your natural tooth roots. Implants:
Anchor replacement teeth to the jawbone.
Stimulate the jaw to prevent bone deterioration.
Are made of ultra-strong titanium.
Can last for years or even a lifetime.
Are extremely stable and reliable.
Forget about uncomfortable dentures that slip and slide. No more carrying your denture adhesive around with you. With implant supported dentures, you can trust your dentures stay in place without fail.
What to Expect
We complete the simple dental implants surgery right here in our office. We will ensure your comfort by providing patient amenities and local anesthesia, along with dental sedation options. After numbing the area, we will place the appropriate number of implants at the best angles for your unique smile.
The surgery can take anywhere from one to three hours. Most patients are pleasantly surprised by their comfort levels during and after their procedures.
Once your dental implants heal and become a working part of your jaw bone, we will restore the implants with your beautiful custom-made dentures.
Benefits of Implant-Supported Dentures
Optimal Health | Patients who have suffered with TMJ disorder or sleep apnea problems in the past can overcome health issues with implant-supported dentures. Strong, well-fitted teeth will restore total oral health.
Easy Lifestyle | You can chew and speak without a second thought when you have implant-supported dentures. They're permanently fixed—just like natural teeth.
Limitless Diet | Hard-to-chew foods are no problem for secure implant-supported dentures. You won't have to change your diet when you wear permanent dentures.
Surprisingly Low-Cost | For most patients, price is an important consideration. While implant-supported dentures are more expensive than traditional dentures, we make sure to keep the costs low so that our patients can get the smiles they deserve.
Wake Up Your Smile!
Let's give you the next-best-thing to a natural smile. Our experienced team is eager to assist you and give you a smile that you love. Call today.